Across the universe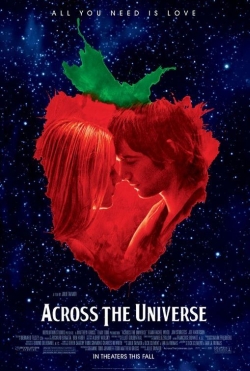 Pas courant qu'une bande originale de film attire mon attention, il fallait au moins l'aura des Beatles.
Across the universe, le film, repose uniquement sur les chansons des Beatles, les personnages principaux, Jude et Lucy portant les prénoms des célèbres chansons. La musique n'est donc pas le prétexte mais le cœur même du film, à la Magical Mystery Tour donc avec probablement l'amateurisme en moins.
Ne l'ayant pas encore vu (sortie en salle le 28 novembre), je n'en dirais rien de plus, il sera donc uniquement question ici de la musique, des 16 titres de la version light, la version deluxe qui en propose 34 n'étant pas encore dispo sur le site ou j'achète mes mp3.

Les Beatles sont un cas unique à bien des égards et ils sont probablement les seuls dont l'intégralité du répertoire a été repris des centaines de fois, de versions fidèles en version déjantées, il est quasi impossible de surprendre en ajoutant une enième covers à la liste impressionnante existante. La magie des titres étant quasi indestructible, c'est les arrangements choisis, le timbre de voix de l'interprète, l'atmosphère qui se dégage du résultat final qui marquera ou non les esprits.

C'est Elliot Goldenthal qui orchestre le tout, compagnon de la réalisatrice, c'est donc une oeuvre artistique commune qui nous est livrée ici Je ne connais absolument rien des travaux précédents du bonhomme, donc impossible pour moi de mettre en perspective Across the universe avec son propre travail de composition qui, pour que j'en ai lu, reste assez éloigné de la pop. Reste quand même que, tout en restant dans le consensuel, film grand public oblige, ces versions sont sacrément bien foutues et qu'elles soient chantées par des pros types Bono ou Joe Cocker ou par les acteurs principaux dont le chant n'est pas le métier premier, il n'y a pas faute de goûts, même si parfois le démarquage de l'original n'est pas assez marqué justement.

All my loving part a capella pour embrayer sur une version enlevée avec une ligne de basse Mc Cartnesque (entendre par là qu'elle est omniprésente). I want to hold your hand est traitée de manière, format ballade déchirée, portée également par la basse et ponctée d'éclairs de guitares, et dotée d'une jolie performance vocale.
It Won't be long, ressort façons girl group sixties, presque Tamla motown, I've just seen a face me fait penser à l'Elvis Costello de King of America, comme quelques titres semblent également produit par T Bone Burnett, je suppose que celui-ci en fait parti tant le son de guitare est proche.
Le titre suivant, le monument Let it be est transformé en Gospel, accentuant le côté religieux du titre original. Chanté dans une église, frissons garantis. Joe Coker abandonne son with a little help from my friends fétiche pour se colleter à une version inspirée de Come together. Une franche réussite, la voix toujours aussi prenante et l'orchestration à la hauteur.

Bono s'y colle pour un I'm The walrus sans trop de risque. Des guitares lancinantes une rythmique plutôt plombée, je vais finir par apprécier U2.

La merveilleuse ballade Something de Georges Harrison est tout à son avantage, un orgue discret réminiscent de Strawberry Fields ou the Fool on the hill en arrière plan des guitares et une batterie originale en sus.

Oh Darling, ne s'écarte pas du chemin tracé sur Abbey Road. Cette version n'apporte pas grand-chose, et ne surpasse pas l'original, particulièrement côté voix ou Mc Cartney faisait des merveilles.
Strawberry Fields ne devrait pas faire se retourner John dans sa tombe, ni y conduire Georges Martin, version total respect.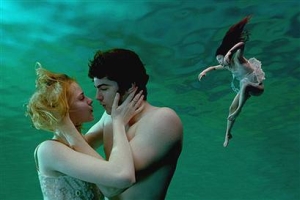 Across the universe, qui a la lourde tâche de porter le film n'innove pas beaucoup plus. Une honnête cover d'un excellent titre.

Helter Skelter joue la surenchère, voix éraillée, guitares tronçonneuses, frappe de batterie lourde, basse vrombissante, tout l'arsenal rock convoqué pour finalement ne pas apporter plus de puissance dévastatrice que la version de 1968.

Happiness is a warm gun tire bien son épingle du jeu. bruitages, bande à l'envers chœurs al dante, un plaisir.

Blackbird banni toute référence au jeu de guitare initial, nappé d'un accordéon ? tout en restant dans le département ballade. Bientôt dans toutes les guinguettes ?

L'inévitable Hey jude, inratable de toutes façons vu la qualité du matériel initial. Ce n'est pas la meilleure version ni la plus mauvaise que j'ai pu entendre de ce titre.

Et pour clore ce petit tour du propriétaire en attendant que j'ai la version longue pour compléter mon avis, Lucy in the sky. Version anecdotique, comme le Hey Jude précédent.

En attendant de voir les images qu'ont inspiré ces chansons, la bande son tient, évidemment, la route toute seule, et ne décevra aucune fan des Beatles, ne serait ce que grâce à la qualité du son nécessairement induite par une version récente. Une excellente manière de patienter pendant ces interminables grèves de transports et les longues marches qu'elles entrainent.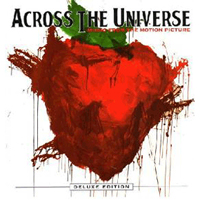 1. All My Loving
2. I Want to Hold Your Hand
3. It Won't Be Long
4. I've Just Seen a Face
5. Let It Be
6. Come Together
7. I Am the Walrus
8. Something
9. Oh Darling
10. Strawberry Fields Forever
11. Across the Universe
12. Helter Skelter
13. Happiness Is a Warm Gun
14. Blackbird
15. Hey Jude
16. Lucy in the Sky with Diamonds