Vox Pop

Une fois n'est pas coutume, ce n'est pas d'un disque mais d'un journal dont je vais vous parler.
Chez votre libraire préféré, apparition donc d'une nouvelle revue, Voxpop. Bimestrielle, ce qui l'oblige d'office à laisser tomber l'actualité pour se consacrer a des articles de fond, se démarquant ainsi naturellement de la concurrence.
Grand format, plutôt luxueuse, stylée devrais je écrire, 5 euros seulement, laissant la part belle aux photos, sans négliger le texte pour autant.
Bon, se lancer au XXIème siècle dans l'édition papier payante dénote un esprit à tout le moins rock and roll et à coup sur, leur banquier doit bruler moultes cierges au quotidien. Les présentations faites, quid du contenu ?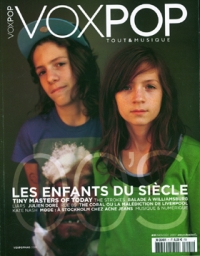 La page de couverture, photos de 2 gamins de 13 ans, les Tiny masters of today, a peu de chance d'attirer l'oeil du mélomane de passage et ne donne pas plus envie que ça de découvrir l'intérieur. L'article qui leur est consacré, quoique intéressant, ce qui est une constante assez rare pour être souligné tout au long du magazine, m'a laissé circonspect sur le but de ce reportage.

AU fil des pages,entre autres articles, Kate Nash, Dick Rivers, Julien Doré, un vieil article sur Les White Stripes exhumé pour l'occasion, un petit tour sur Liverpool et un bref récapitulatif des albums phare des années 2000 ...

Au final, nous sommes plus près des Inrocks que de Rock and Folk, sans le côté élitiste désespérant des premiers. Le graphisme est soigné, les photos souvent très belles, les articles forts bien écrits et captant l'attention, quel que soit le thème abordé. M'intéresser à une société suédoise Acne, fer de lance de la mode vestimentaire tendance rock n'était pas gagné d'avance.

Bref, le N°1 a remporté son pari, éveiller la curiosité, il ne reste qu'a espérer que la suite sera à la hauteur, la suite dans quelques jours, en janvier.