Arther


Retour à la première partie
Retour à la seconde partie

L'album

Introducing donc le 1er album de ce quartet breton. Une chanteuse et ses 3 acolytes. La combinaison parfaite pour m'accrocher avant de me séduire.
La pochette ne met pas Juliette en avant, les 4 assis sur un banc, pas de quoi faire rêver et attirer l'œil (sans faire putassier) c'est pourtant quand même le but d'une couverture.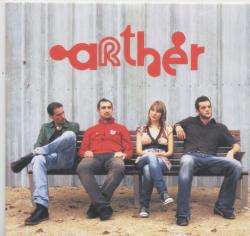 1ère mesures, quelques arpèges de guitare et une jolie voix pop, je me dis, tient, une Blondie en puissance. Arrive le refrain, et là , ca s'énerve carrément. Grosses guitares, break basse batterie, il est clair que la demoiselle et son band ne sont pas là pour faire dans l'acidulé, le frais et le gentil.
Totally out, ce morceau d'ouverture, tient bien son rang de morceau de présentation, à la sortie, l'envie d'en savoir plus est là.
Même principe pour TV show. Un début calme pour mieux mettre la pression ensuite. La voix part dans les aigus, se casse presque parfois, nous tient au bout de son souffle, les guitares ne lâchent pas leur part.
Bon, moi qui m'attendais à un groupe pop, propre sur lui, raté. Ghost of my mind, 3ème et meilleur titre du disque calme un peu le jeu. Plus acoustique, la voix virevolte sur les entrelacs de guitares, la mélodie est efficace, c'est probablement le titre le plus radiophonique, même s'il n'est pas la facette la plus représentative du groupe.
Move to tears flirte avec le hard, Woman et son intro quasi Eagles surprennent également, mais globalement, effet de surprise passé ? le reste du disque est un poil au dessous des 4 premiers morceaux. Ceci dit, la couleur est annoncée, cette musique est rock et faite pour être jouée live. Rejoignons donc Arther sur scène.

La scène.

Partis manger ailleurs, d'où leur retard, les 4 prennent positions. La chanteuse est très jolie, le batteur, doté d'un micro, va être également en charge des harmonies. Basse et guitare de chaque côté de la demoiselle.
Au menu, 4 titres acoustiques, 4 électriques dont une reprise de Portishead.
Côté musiciens, nous avons affaire à des gens qui connaissent la leur. Le bassiste lance des lignes originales et mouvantes, recherchées, le guitariste connaît son manche sur le bout des doigts, et des morceaux acoustiques du début aux électriques il impressionne par sa facilité et supporte l'ensemble de l'architecture sonore.

Le batteur, bien que doté du même kit batterie minimal (grosse caisse, caisse claire, charley cymbale, pas de toms) que ses prédécesseurs se défonce bien et lorsque il y a besoin de frapper lourd et fort, il répond présent. Les 3 assurent un confortable tapis sonore à la belle qui, malheureusement ne sait pas trop quoi en faire.
Parce que là, clairement, le bât blesse. Un chant régulièrement faux, à sa décharge des retours inexistants, et surtout un manque de présence flagrant, le charisme d'un pied de micro. Elle ne sait pas quoi faire de ses mains, de son corps, et c'est très perceptible. Je ne suis pas venu seul et la même impression générale s'est dégagée à la fin du set pour nous trois.
Indépendamment des problèmes de justesse, peut être dus aux conditions particulières, elle a vraiment une voix intéressante avec d'évidentes qualités de puissance, le son, le timbre sont là, mais tout un apprentissage pour capter l'espace et focaliser les regards sur soi est nécessaire. Etre chanteuse ne se résume pas à une plastique et des cordes vocales et l'envie et le plaisir d'être là, perceptibles, ne suffisent pas.
Heureusement, elle est toute jeune et à tout le temps de progresser, elle a quand même le principal, une vraie voix.