My Brother Woody
My Brother Woody a sorti fin 2007 un album qui concours au titre le plus long de l'année It's a long way from that sort of thing you were raised, mais c'est loin d'être sa seule qualité.

My Brother Woody est le véhicule musical d'un homme Michael Cleare.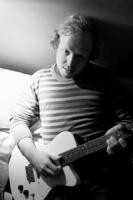 My Brother Woody est persuadé que Dublin, sa ville d'origine est situé sur la coté Ouest des Etats-Unis, Californie pour être précis, les fan de celtiques attitudes peuvent passer leur chemin.

My Brother Woody n'est pas l'un des Beach Boys mais personne n'ose le lui dire tant il est agréable de le lui laisser croire, fans de rugby, rangez vos crampons, sortez vos surfs

My Brother Woody, même sous une de ces pluies battantes dont l'Irlande est coutumière vous ferait croire que l'on est en plein été et repeint la grisaille en bleue

My Brother Woody écrit des popsongs format mille feuilles, un délicat enchevêtrement d'harmonies vocales, de cuivres, de clochettes de guitares cristallines, bref MMy Brother Woody a beaucoup écouté Pet Sounds et visiblement (ainsi qu'audiblement) ne s'en est jamais remis.

My Brother Woody nous invite à un voyage dans le temps (65-75), et, en onze titres, tente de nous convaincre avec succès qu'il nous manque un album dans la discographie des garçons de la plage.

Un bémol peut être à My Brother Woody l'absence d'un réel classique, son God only knows ou sa Caroline no à lui. Car même bourré de bonnes vibrations jusqu'à la gueule manque à It's a long way from that sort of thing you were raised le titre qui ferait la différence, le petit bijou qui transformerait l'intention en confirmation.

Ce disque est le meilleur album des Beach Boys depuis le départ de Brian Wilson, pas possible d'en dire plus ni d'en dire moins.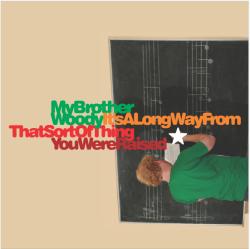 Another Wave Of Harmony
Wish I Was A DJ
Hanging Around
Getting Old Goes With Getting Fat
Your New-Found Taste
Super Serotonin Girl
I Got A Gurl
When Summer Comes Around
Not Exactly What You Dreamed Of
Shelly
I Only Like Songs With Bops, Oohs & Aahs