That Lucky old sun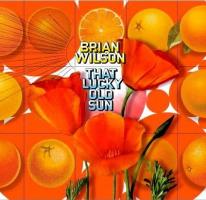 Brian Wilson est une légende. Capitaine du navire amiral les Beach Boys, il fut l'un des rares à pouvoir tenir la dragée haute à la déferlante anglaise du début sixties. Brian Wilson est une légende certes, mais qui a fondu les plombs il y a maintenant plus de 40 ans. Top de pression, trop de génie, trop de drogues, trop de musiques, trop de tout et à partir de 1967, disparition musicale de l'inventeur de la symphonie de poche.
Exhumé de temps à autre pour redonner une crédibilité aux Garçons de la plage, pauvre fantôme de ce qu'il fut, une carrière solo anecdotique parsemée d'albums plus dispensable les uns que les autres avec parfois une petite lumière au détour d'un titre un peu moins raté que les autres. En 2004, résurrection du mythique album Smile, datant du pétage de plomb. Tournée avec son nouveau groupe , les Wondermints, techniquement des années lumière au dessus des californiens d'origine, tous au service du passé circa Pet sounds, bref, Brian recycle le vieux, et rien que ça c'est déjà beau, vu d'où il vient.
Du coup, la sortie d'un nouvel album, That lucky old sun me laissait dubitatif. Mais, fidèle à mes vielles amours, je tente néanmoins le coup. Et ne voilà t'il pas que le bonhomme a inventé la machine à remonter le temps. Pas le sien, lui est resté bloqué là-bas, mais il nous permet de venir l'y rejoindre, le retrouver en ce milieu des années 60 sur une plage de Californie. Conçu comme à la bonne époque comme un album d'une seule traite, ou tous les morceaux s'enchaînent via de petites saynètes parlées (dont d'ailleurs on se lasse vite), ce disque renoue avec le son dont il est le dépositaire. Des les premières secondes, nous sommes happés par des harmonies vocales dont il a le secret et le soleil apparaît. Même sur le périphérique parisien en ce mois de septembre frisquet, il arrive à nous fait croire que nous sommes dans une Chevrolet 1957 rose , cheveux au vent, sur un highway de L.A, avec de jolies filles sur la banquette arrière.
Les 17 parties de ce Lucky old sun retracent donc la vie rêvée californienne à l'époque ou il était le roi du monde. La voix, merci le studio, n'a rien perdu des ces qualités, falsetto au rendez-vous, nostalgie omniprésente, dans les textes, intimistes, ou il affronte ses démons personnels. Les orchestrations sont riches à souhaits, cordes, cuivres, une leçon pour tout apprenti arrangeur. Aucune grosse faute de goût, même si des titres comme le boogie poussif Going home font plus penser aux Beach Boys post Brian, un peu lourd et empesé et pas vraiment inspiré.
.
Chef d'œuvre ce disque ? Non évidemment, si la forme est bien là, le fond pêche un peu, les compos ne recèlent pas ce truc magique qui fait les hits. Pas de Good vibrations, de Caroline no, de Warmth of the sun ici. Pas l'ombre d'un tube. Mais un plaisir certain à retrouver quelqu'un qui revient de très loin, et qu'on avait cru définitivement perdu pour la pop. Pas simplement une ligne de plus donc sur le CV de la légende, mais une leçon pour tous ceux qui doutaient encore.
That Lucky Old Sun
Morning Beat
Room With a View
Good Kind of Love
Forever She'll Be My Surfer Girl
Venice Beach
Live Let Live
Mexican Girl
Cinco de Mayo
California Role
Between Pictures
Oxygen to the Brain
Can't Wait Too Long
Midnight's Another Day
Goin' Home
Southern California


La bande annonce de l'album That Lucky old sun de Brian Wilson (2008)