Queen et Paul Rodgers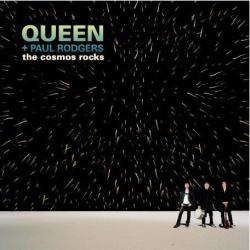 Premier album de chansons originales de Queen depuis le décès de Freddie Mercury, The Cosmos rock voit donc Paul Rodgers, voix légendaire du catalogue rock via Free et Bad Company poursuivre avec les deux Queen encore en action, Brian May et Roger Taylor, l'aventure. Après s'être fait la main sur les grands classiques du groupe lors des tournées précedentes, il faut croire que l'alchimie a fonctionné puisque les voilà pour du neuf.
Enfin du neuf, faut voir.
Certes, Queen n'était pas le groupe de Mercury, les 3 autres contribuaient largement aux compos et au son. Mettons que la flamboyance, le côté baroque, à part et décalé du groupe ainsi que les impressionnantes cathédrales vocales étaient pour bonne part inspirées par le charismatique chanteur.
Et ce Cosmos Rock confirme parfaitement cet a priori. Paul Rodgers, hormis la fantastique voix qui est la sienne est un compositeur médiocre et un lyriciste de même métal, crachant du banal rock and roll à tout va. Les deux Queen ont du lui laisser un peu la bride sur le coup et au final et contre toute attente, l'album ressemble plus à Paul Rodgers accompagné de Queen que le contraire.
Cosmos rock est en fait un film de science fiction imaginant ce qu'aurait été Queen si en 71/72 Freddy Mercury n'avait pas modifié leur trajectoire.
Le morceau d'ouverture Cosmos Rockin, ressemble à n'importe quel hymne Rock and roll entendu 100 fois et le refrain me fait irrésistiblement penser à du Status Quo, c'est dire. Bon je suis fan de la bande à Rossi, mais on parle de Queen là. De mecs qui ont pondu des hits en veux tu en voilà, et avec un son à eux, unique. Là hormis la guitare de May, toujours lumineuse, on se prend un banal blues rock américain, sans génie, sans folie, en pilotage automatique. Et les chœurs typique de Queen, ils sont passé ou ? et la pop ? Disparue avec John Deacon ?
Prenez le titre Call me. Ca sent certes le hit à plein nez mais franchement, est ce du niveau de ceux qui nous collèrent des frissons ? Ce refrain gnan gnan mou du genou et répétitif au possible . Que Still burning reprennent une citation clin d'œil de We will rock you ne change rien à l'affaire. Les 3 sexagénaires se font probablement plaisir a jouer ensemble, dommage qu'ils aient jugé nécessaire de ressusciter le nom de Queen pour ce faire, business oblige. Cosmos Rock est définitivement plus Bad Company & May & Taylor que ce qu'ils ont tenté de nous vendre. Au mieux c'est au Queen pré Killer Queen que nous avons affaire, encore dans sa gangue rock et n'ayant pas encore trouvé sa voie royale.
.
Allez, recommencez avec Ronnie James Dio et là, peut être que la mayonnaise prendra.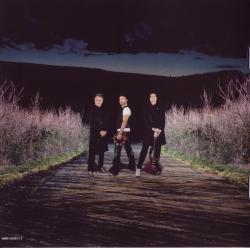 1. Cosmos Rockin'
2. Time To Shine
3. Still Burnin'
4. Small
5. Warboys
6. We Believe
7. Call Me
8. Voodoo
9. Some Things That Glitter
10. C-lebrity
11. Through The Night
12. Say It's Not True
13. Surf's Up . . . School's Out!
14. small reprise