The Rasmus - Black Roses
Les finlandais de The Rasmus reviennent après 3 ans d'absence avec un album intitulé Black Roses.
Pour ceux qui auraient raté les épisodes précédents, The Rasmus font un rock entre hard et pop, très mélodique, porté par la voix légèrement voilée de Lauri Ylönen. Bien qu'encore très jeunes, ils ont près de 15 ans d'activité, et une floppée d'albums (7 je crois) sous la ceinture. C'est celui nommé Dead letters, sorti en 2003 qui les a propulsé à l'avant scène internationale, ce disque restant à mes yeux l'une des plus belles réussites de cette combinaison pop et hard, un disque regorgeant de hits et absolument indispensable à toute discothèque qui se respecte. Le suivant, Hide from the sun s'essaya aux mêmes recettes avec un brin de réussite en moins, tout en restant fort honorable.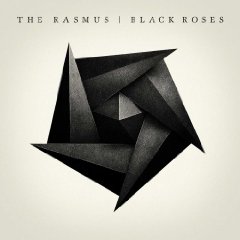 Ce Black Roses, vague concept album, est à Hide From the sun ce que ce dernier était pour Dead Letters, une pâle tentative de rééditer le succès en utilisant les mêmes recettes avec au final le même constat, raté.
Les petits gars tournent en rond, réécrivant le même disque en un peu moins bien chaque fois, l'ajout du réputé producteur Desmond Child (Alice Cooper, Kiss) ne change rien à l'affaire, le son semble exactement le même que précédemment, comme s'ils n'arrivaient pas à sortir de la formule dans laquelle ils se sont englués.
Les guitares sonnent toujours aussi bien, les riffs se succèdent sans fatiguer, la voix à toujours le même pouvoir d'attractivité et les ruptures de rythmes s'enchaînent inlassablement, mais les morceaux se succèdent sans jamais nous surprendre,  même pas un hit décent à se mettre sous la dent, le premier single Livin' in a World Without You se mémorisant péniblement.
Dommage car ce type de musique, quand la recette fonctionne, est imparable, et j'avoue avoir un petit faible pour ce groupe mais j'ai bien peur que le probable insuccès international (même si en Finlande ils restent les rois du monde) qui les guette ne mettent fin à l'aventure Rasmus.
01. Livin' In A World Without You
02. Ten Black Roses
03. Ghost Of Love
04. Justify
05. Your Forgiveness
06. Run To You
07. You Got It Wrong
08. Lost And Lonely
09. The Fight
10. Dangerous Kind
11. Live Forever