Avatars
William Sheller
William Sheller est un cas un peu – beaucoup – à part dans la variété française. Il a fourni son quota de tubes populaires pour rester dans les mémoires, a composé au moins une chanson, Un homme heureux, qui fait parti du patrimoine artistique francophone, mais il a aussi fait ce qu'il avait envie de faire, d'ou des albums parfois déroutants, voir hermétiques.
Alliant depuis ses débuts son amour de la pop, côté Beatles, mélodique et celui d'une musique non pas plus exigeante mais plus « classique », avec force cordes ou cuivres, ou l'orchestration reste un art, notre symphoman propose  régulièrement des disques surprenants, intelligents, sensibles, créatifs, et parfois, il faut bien l'admettre, déconcertant. Une sorte d'Electric Light Orchestra à lui tout seul.
 L'avouerais-je ? J'avais un peu perdu de vue notre sexagénaire depuis quelques albums. Trop Sheller, pas assez pop à mon goût. Et cette étrange pochette, les premières critiques positives m'ont incité à aller plus loin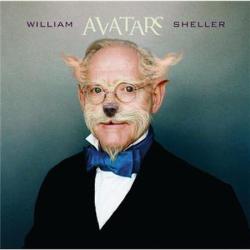 Avatars, le petit dernier, est probablement celui qui associe le plus les deux mondes qu'il révère. De la somptueuse ouverture de cordes d'Avatars I log in, vite rejointe par quelques éclairs de guitare électrique, au final d'Avatars II log out, 45 minutes d'un voyage en 12 titres,  guidé par un monsieur très doué. Pourtant vous ne trouverez pas ici de tube en or massif. Même le single Tout ira bien, Beatlessien en diable, très positif, ne cassera pas la baraque. Trop fin, pas assez putassier. Jetlag, son intro clin d'œil à Back in the USSR, sa ligne de basse, sœur lointaine d'un Laissez passer les rêves d'un autre mélodiste hors pair, Michel Berger, griffé par des guitares racées ne suffira pas. Le dépouillement acoustique (guitare, pas piano !) de Felix et moi n'a pas le profil FM.
La longue échelle et ses mellotrons style Fool on the hill, son cor de chasse à la For no one, trop tard, d'une autre époque. Même Armande et son Music-Hall ne traîneront pas les foules. Les la la la de Camping, écho des tit tit tit de Girl, et le solo façon guitar-héro peuvent toujours nous tourner la tête, et faire danser les cons, le tout restera confidentiel.
Je ne vais pas tous les passer en revue, vous avez compris que Sheller y a mis le meilleur de lui-même mais est ce suffisant ?. Et je ne vous ai pas parlé des textes. Il utilise pourtant les mêmes mots que vous et moi, mais chez lui, ça sonne différent, ça parle au cœur, simple fragile et touchant.
C'est un album qui pourra être écouté 100 fois sans lassitude tant il est riche, et son manque de tube fera que l'on ne nous en écoeurera pas. C'est un album qu'il était le seul à pouvoir faire, et ça, c'est un sacré compliment.
1. Avatar I (log in)                 
2. La longue échelle               
3. Tout ira bien                      
4. Félix & moi           
5. Jet lag                    
6. Tristan                   
7. Black mail              
8. Music-hall              
9. Le veilleur de nuit               
10. Spyder le cat                   
11. Camping              
12. Avatar II (log out)