Pays Sauvage
Emily Loizeau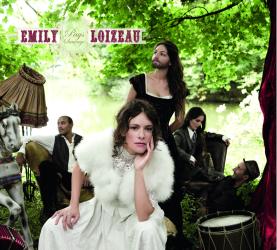 3 ans après l'inattendu succès d'à l'autre bout du monde, Emily Loizeau nous propose son second album studio, Pays sauvage., autre titre à connotation géographique donc, et passage sur une major dans la foulée.
Le 1er ne m'avait pas accroché plus que cela, la voix de la jeune femme, fluette, encore trop proche de l'enfance. Elle a ici nettement mûrit, pratique intensive de la scène oblige, mais je ne suis pas pour autant convaincu.
L'album, riche, touffu, offre des atmosphères assez disparates, il faut parfois la suivre dans les méandres de ce pays sauvage, aux contrées si différentes.
Dans ce grand bazar ou trouve de la world musique avec le titre d'ouverture,  Pays sauvage, une belle réussite, captivante sans céder à la facilité, et de l'ambiance blues noir avec Fais battre ton tambour, ou, malgré les limites de sa voix dans ce type d'exercice,  elle séduit tout de même.
Son ascendance franco-britannique lui autorise le passage de l'anglais au français, Tell me that you don't cry aura son écho avec Dis moi que tu ne pleure pas aux couleurs africaines fièrement affichées, Thomas Fersen participe au duo bilingue The princess and the Toad, sur un titre qui s'intègre parfaitement dans le répertoire de l'un ou de l'autre. Perso je ne suis pas client.
Il y a un vrai chouette single, le seul ?, Sister, absolument imparable, aux parfums seventies prononcés, pop en diable, une comptine foutraque, La dernière pluie, special low fi et un joyeux bordel avec La femme à Barbe. On croise, aux détours des morceaux les Moriarty ou Herman Dune, Olivia Ruiz ou Jeanne Cherhal.
Cet un album original que nous délivre là Emily Loizeau, personnel, décalé, et souvent surprenant. Eclectisme de rigueur,  arrangements subtils, entre violoncelle d'inspiration classique (Olivier Koundono oblige) comme sur Les songes et percussions affricaines tout sauf déjà entendus, et en définitive, ce voyage en pays sauvage finalement civilisé et très accueillant est un plaisir. Suivez Loizeau migrateur.   

Tracklist
01. Pays Sauvage
02. Fais battre ton tambour
03. Tell me that you don't cry
04. Sister
05. La dernière pluie
06. Songes
07. Coconut Madam
08. La femme à barbe
09. Princess and the Toad
10. Ma maison
11. In our dreams
12. Dis-moi que tu ne pleures pas
13. Le coeur d'un géant
14. La photographie