Working on a dream
Bruce Springsteen
Je le confesse, j'avoue tout, Bruce Springsteen  n'a jamais déclenché le moindre tremblement de terre sur mon échelle de Richter musical. Sur les plus de 20 albums déjà parus , pas un pour m'avoir sorti de ma torpeur. D'ailleurs je ne dois connaitre en tout et pour tout que 5 ou 6 albums de lui. Ceux de ma jeunesse, Darkness on the ege ou The River et autre born in the USA, déjà considérés comme chef d'oeuvre lors de leur parution et qui me passaient bien au dessus des oreilles.
Ma dernière tentative d'écouter the Boss fut son album de 2006, hommage à Pete Seeger, We Shall Overcome qui m'avait confirmé dans mes certitudes, ce mec n'est pas pour moi.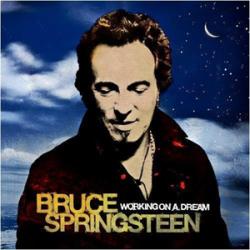 C'est donc avec une oreille plutôt neuve, entendre par là, sans référence à sa précédente discographie que j'abordais le cru 2009,
Working on a dream
(écho à Martin Luther King ?) Et vous savez quoi, je l'ai trouvé pas mal du tout ce disque. Ce qui, je suppose, implique qu'il va se faire descendre par la critique.
Il est plutôt pop ce disque, assez éclectique dans ces choix musicaux. Même le titre d'ouverture
Outlaw Pete
avec ses 8'00 passe comme une lettre à la Poste .  On y trouve un titre country,
Tomorrow never knows
, gentillet comme tout, un single bien efficace
Surprise Surprise
, qui toune en boucle sur mon lecteur mp3, sorte de joyeux anniversaire ou n'importe quel mec chantant les mêmes paroles en français passerait pour le dernier des couillons,
Lucky day
et son sax casse la baraque dans la grande tradition Springsteenienne (enfin l'idée que je m'en fais), idem pour
Kingdom of days
ou des cordes bienvenues ponctuent la chanson,  le titre qui donne son titre à l'album,
Working on a dream,
a également un potentiel radiophonique important. En fait ce qui me séduit dans ce disque c'est que la plupart des mélodies me font penser à d'autres trucs. Ce n'est jamais du pompage pur et simple, juste de lointaines réminiscences. Du coup le disque parait assez familier rapidement. Et comme la voix du Boss ne faiblit pas une seconde, ça accroche bien.  Si on excepte le bonus track
A Night With the Jersey Devil
, qui pour ma part aurait pu rester dans les oubliettes dont il a été  tiré, pas de faux pas dans cet album.
La production écrase un peu tout et noie l'ensemble dans un magma sonore d'ou la voix s'extirpe sans dommage mais derrière, le E street band est un peu dans le potage.
Il m'a presque donné envie de réécouter ses derniers albums l'animal , bien joué !
 Outlaw Pete
 My Lucky Day
 Working on a Dream
 Queen of the Supermarket
 What Love Can Do
 This Life
 Good Eye
 Tomorrow Never Knows
 Life Itself
 Kingdom of Days
 Surprise, Surprise
 The Last Carnival
 The Wrestler (bonus track)
 A Night With the Jersey Devil (bonus track)