Roll on
JJ Cale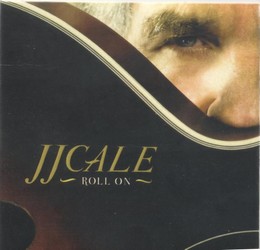 Un nouvel album de JJ Cale, ca reste un évènement, surtout avec la participation d'Eric Clapton (déjà réuni sur tout un disque en 2006, Road to Escondido). Un des maitres de la guitare, 70 ans aux fraises, ça impose le respect. J'appelle donc le fiston, apprenti guitariste, et pose le Cd dans la platine.
Ca démarre avec
Who knew.
Un beat jazzy, ou JJ Cale scat (si si, vous avez bien lu), la guitare est releguée à l'arrière plan. La voix est toujours là, qui permet de se raccrocher à un truc connu. Au final le morceau est  agréable mais surprenant, enfin de sa part. Que dire du second.
Former me
fait plus penser à Paole Conte qu'au créateur de Cocaïne. Foin de guitare, piano en ryhmique, au secours on nous l'a changé, rendez nous le JJ Cale que je connaissais et appréciais ! Celui de  5 ou Shades ?
Fiston se marre et regagne sa chambre, mal lui en prend,
Where the sun don't shine
reprend les ingrédients habituels et la guitare magique sort enfin du bois. Et à partir de là, on retrouve ce mix blues country rock qui fait la marque de fabrique de la légende.
Down to Memphis
pourrait être sorti n'importe quand ces 30 dernières années, le banjo de
Strange days
nous renvoie au premier album, Naturally.
Cherry street
nous fait taper du pied et hocher la tête,
Oh Mary
ressemble à un remake d' Oh Carol de Chuck Berry et c'est un plaisir. Le titre avec Clapton,
Roll on
,  tient ses promesses, oh, rien de révolutionnaire mais une bonne dose de blues rock derrière les oreilles, du style dont on redemande toujours.
Bring down the curtain
ferme la marche, en espérant que ce ne soit pas un titre prémonitoire.
Au final, passé les deux premiers titres totalement hors propos, JJ Cale nous délivre encore un album attachant, peut être même son meilleur album,  ou la guitare et son style si particulier donc merveilles. A noter que l'ensemble des instruments et la prise de son ont été réalisé par le maitre quasi en solitaire.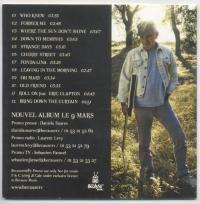 Son âge - et lui même - laissent à penser que ce pourrait être son dernier album, mais on a vu des Salvador en prendre pour 20 ans de plus avec le succès que l'on connait, c'est tout le mal que l'on peut souhaiter à l'ermite de Tulsa
Who knew
Former me
Where the sun don't shine
Down to Memphis
Strange days
Cherry street
Fonda Lin
Leaving in the morning
Oh Mary
Old friend
Roll on
Bring down the curtain