Songs for sorrows
Mika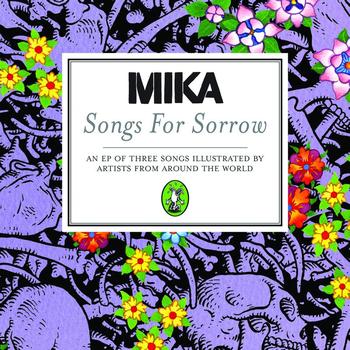 Après le carton de son premier album, Life in cartoon motion, il y a deux ans, carton à faire douter qu'il y ait une crise du disque,
Mika
nous revient. Et pas du tout là ou il était attendu. Autant son premier opus était pop en diable, chatoyant, frais et bourré de singles jusqu'à gueule, doté d'orchestrations dans l'air du temps, bref tout ce qui a pleinement justifié cet engouement, autant Song for sorrows surprend (Attention, je n'ai pas dit déçoit)
D'abord, c'est un EP, comprenez 4 titres, et non un album, une mise en bouche avant le second disque peut être, ou un moyen de faire tomber la pression qui doit être colossale, d'un Life in II, le retour du fils de la vengeance. Et foin d'arrangements colorés et pop, back to the basics, plus dépouillé tu meurs. En ouverture,
Blues eyes
(rien à voir avec le titre d'Elton). Tendance Zouk. Si si, vous avez bien lu, ok, ce n'est pas Kassav, mais l'esprit est là.  Pas mal foutu au demeurant, même si la mélodie ne me transporte pas plus que cela.  
Lady Jane
(rien à voir avec le titre des Stones) est une balade piano voix qui n'apporte rie nde plus, ni de moins d'ailleurs, elle se laisse écouter facilement, elle se laisse oublier sans plus de difficulté. Le timbre si particulier de Mika, son aisance vocale en sont les points forts.
Lonely alcoholi
c reprend les mêmes ingrédients que la précédente, avec une mélodie un peu plus interessante. Le bougre sait écrire une chanson, aucun doute. Et il le prouve avec le titre le plus pop des cet EP.
Toy Boy
, traité façon menuet à un petit côté entêtant, de ceux qui restent entre les oreilles sans que l'on sache très bien pourquoi. Avec de quoi accentuer les similitudes avec un Freddy Mercury (les harmonies vocales),  ce titre n'aurait certe pas détonné dans la discographie du frontman de Queen.
A noter qu'un livre illustré accompagne ces quatres chansons, une foultitude d'artistes ayant donné ainsi leur vision des histoires racontées par
Mika
.
Voilà une manière ma foi fort agréable de patienter en attendant la sortie de l'album. Un zeste de pop en plus ne m'aurait pas déplu, un côté tube plus prononcé non plus, mais s'il avait besoin de ce sas de décompression avant d'entamer les choses sérieuses ..