Roadsinger
Cat Stevens - Yusuf Islam
La sortie de son ermitage – près de 30 ans quand même – avec l'album An other cup a du redonner goût à Steven Demetre Georgiou alias Cat Stevens, alias Yusuf Islam alias Yusuf à la musique puisque à peine plus de trois  ans  se sont écoulés entre cet album et le to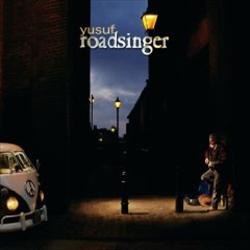 ut nouveau que voici, 
Roadsinger
. L'idée, si l'on en croit son auteur est de reprendre le discours à ou Cat Stevens l'avais laissé en 1977, plus folk, plus guitare moins surproduit.
Et de fait, dès les premières mesures de
Welcome home
le bien nommé, nous voici replongé quelques décennies en arrière, le grain de voix, à peine plus grave, les guitares acoustiques, tout fleure bon le Cat.
Tout ? Presque.
Car l'essentiel y manque tout de même. Si la grande majorité des chroniques de cet album sur le net  semble lui trouver le même cachet qu'à l'époque des Tea for the Tillerman et autre Mona Bone Jakon, je reste dubitatif quand  à moi. Certes la forme y est, et à l'écoute, aucun doute que ce soit un album de
Cat Stevens
, mais ou sont passés les mélodies qui faisaient de ses albums ces moments magiques, Hormis le titre qui donne son nom à l'album et encore, parce qu'il faut bien en retenir un, il ne reste pas grand-chose à se caler entre les oreilles à la fin du disque. Je doute qu'un seul de ces titres finissent un jour sur un best of Cat Stevens, celui de Yusuf éventuellement, mais ce dernier n'a pas, pour le moment, le retentissement du premier, et si l'on occulte son fabuleux passé, un artiste débarquant pour la première fois avec un tel disque sous le bras ne rencontrerait qu'un silence médiatique assourdissant.
Yusuf Islam n'existe que parce que Cat Stevens fut. 
Roadsinger
donne l'impression d'un -bon- imitateur de Cat Stevens, reprenant à la perfection ses caractéristiques mais sans l'âme de l'original. Un comble.