Time to blast
Little Bob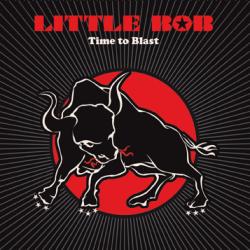 Combien de temps que je n 'ai pas écouté un
Little Bob
? 25 ans ? 30 ans ? Pour les non quadragénaires, il faut se rappeler de qui était (est) Little Bob  avec ou sans sa Story. Eternel second couteau dans la lignée des groupes rock and roll made in France, il a longtemps représenté l'ultime rempart, le dernier défenseur d'un rock and blues pouvant rivaliser avec les plus grands, de l'autre côté de la manche ou de l'océan Atlantique, le dernier phare.
Alors bien sur Téléphone ou Trust (ne me parlez pas d'Indochine, je parle de rock ici). Eux ont eu le succès commercial et critique, Roberto Piazza n'a eu que le second, et encore, pas longtemps. vite oublié, il n'en continue pas moins à écumer les scènes du monde entier, et si tout change autour de nous, lui, inamovible, poursuit sa sainte mission, tel Sisyphe poussant son rocher, Little Bon pousse son rock, ad vitam eternaem.
Donc, un nouvel album
Time to blast
. Pour moi, il avait pris sa retraite, un rapide coup d'oeil sur sa
discographie
m'indique qu'il n'en est rien et qu'il est toujours sur le pont .
Sans surprise, le petit taureau dans l'arène rock and roll balance la sauce. Les guitares riffent à tout va, piano et orgue sont parfois de la partie, à la manière d'un Springsteen, rock, blues, boogie, toute la panoplie du parfait petit rocker est déployé. Gros son, côté réalisation, ca assure grave, côté voix, peut être un peu moins rapeuse qu'auparavant, mais il s'arrache sans problème. Et  bien sur la même  problématique sur les compos, problématique qui l'aura poursuivit toute sa carrière, pas l'ombre d'un truc radiophonique à se mettre sous les oreilles. Bon, de toutes façons, les amateurs de ce type de zic n'attendent pas de voir débouler Little Bob chez Drucker, mais quand même, un petit titre sifflotable, ça aurait de la gueule. Nombreux sotn ceux qui ont démontré que l'on pouvait allier racines rock blues et efficacité, et j'aurais bien aimé, qu'en un chouette pied de nez, Little Bob cartonne aujourd'hui.
Si vous aimiez Little Bob, vous pouvez y aller les yeux fermés. Si vous attendez le prochain Stones avec impatience,
Time to blast
lui sera supérieur.
C'est du rock petit, du vrai 100% pur jus.