The boy who knew too much
Mika
Et merde !
Juste bon, l'album de Mika est juste bon ! Pas énorme, juste bon ! Peut être que j'en attendais trop aussi. Alors que j'espérais un bijou pop aussi lumineux et inattendu que Life in Cartoon Motion, son premier album, Le garçon qui en savait trop (
The Boy Who Knew Too Much
) se révèle bien foutu, avec son quota de singles efficaces mais en de ça de mes attentes. Mettons que j'attendais Magical Mystery tour ou Rubber soul et que j'ai eu Rotogravure.
Alors bien sur, la voix si flexible, qui est l'une des caractéristiques de Mika est toujours là, et que ça monte et ça descend, tournoie et virevolte, les chœurs sont au rendez vous, mais il y a un je ne sais quoi qui fait que je reste sur ma faim, comme si Mika avait été au plus simple, au plus facile.
L'album s'ouvre sur le titre qui devait initialement être celui de l'album, 
We are Golden
. C'est également le premier single, et, à ce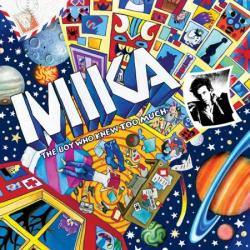 titre, il assure bien, le refrain est accrocheur, et l'ombre de Queen, bienveillante, plane au dessus.
Blame it on the girls
donne l'impression de rééditer le coup, mais le refrain est tellement téléphoné et simplet qu'il plombe le morceau.
Rain
est à mon avis le meilleur titre de l'album et devrait déclencher quelques poussées de fièvre sur les dance floor.
Dr John
est sauvé par la voix, mais en soi n'a rien d'exceptionnel,
I see You
, première ballade fait honnêtement son office sans génie mais sans faiblir non plus.
Blue eyes
, pourtant déjà sorti sur l'EP Songs for sorrows est à nouveau inclus ici dans la même version.
Good gone girl
convoque à nouveau l'esprit de Freddy Mercury sans emporter l'adhésion pour autant,
Touches you
est totalement anecdotique et dispensable.
By the time
avec son orchestration plus light, ou les harmonies vocales prédominent est une belle réussite, mais la mélodie n'a pas l'ampleur nécessaire pour faire une OPA sur nos tympans.
One foot boy
démontre simplement que Mika, parfois, ne force pas son talent et cède à la facilité. Inexplicablement un second titre de Songs for sorrow abouti ici,
Toy boy
. Pourquoi a-t-il été caser sur un nouvel album ces deux titres déjà parus, mystère et boule de gomme ? Pas assez de morceaux en magasin peut-être ?
Pick up off the floor
calme le jeu, avant de clôturer le disque sur l'erreur fatale, le truc qui gâche tout.
Lover boy
, est un tel plagiat de Killer Queen de Queen que c'est est pathétique. Absolument impossible de ne pas y penser. Alors hommage déguisé ? Une reprise eut été plus honnête et efficace. Bref
The Boy Who Knew Too Much
se finit sur une déception, ce qui n'est pas exactement la meilleure méthode pour nous laisser.
Au final, un album qui va confirmer le statut de Mika, quelqu'un avec qui il faut compter, un ton en dessous de son premier mais c'est toute la difficulté bien connue d'un second disque. Mais j'ai  tout de même l'impression qu'il peut faire bien mieux que cette enfilade de titres pour les pistes de dance.
We Are Golden
Blame It On The Girls
Rain
Dr John
I See You
Blue Eyes
Good Gone Girl
Touches You
By The Time
One Foot Boy
Toy Boy
Pick Up Off The Floor