Y not
Ringo Starr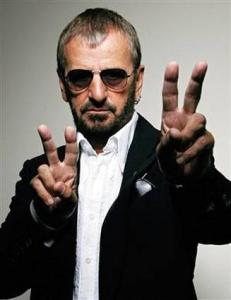 2010 ! Et un nouvel album de
Ringo
. Je précise pour les irréductibles fans d'Anny Chancel, Ringo
Starr
. Qui peut bien attendre aujourd'hui un album du moins talentueux des 4 de Liverpool ? Certes, il fallait s'y attendre puisque,  en gros tous les deux ans ces dernières années, il nous dépose son cadeau. Décevant systématiquement, mais qu'est ce qui le pousse ?
Plusieurs arguments jouent en sa défaveur. Il est batteur, et franchement, les bons albums solo de batteur hein …
Il chante aussi bien que votre beau-frère et est tout aussi bon compositeur. A son passif également, depuis une trentaine d'année, la floppée de disques qu'il a signé sont tous plus insipides les uns que les autres, voir même carrément mauvais. En fait, hormis le country
Beaucoups of Blues
, l'excellent
Ringo
et l'honnête
Goodnight Vienna
et, allez je suis dans un bon jour, je pousse jusqu'à
Rotogravure
, le reste est à passer à la benne. Ok j'exagère, mais si peu. Donc
Y not
, nom du nouveau né, a une lourde hérédité.
Si l'on s'en tient au générique, une spécialité du
Ringo
qui, à défaut de talent, a plein de potes, c'est une affiche en or. De
Dave Stewart
ex Eurythmics à
Joe Walsh
, ex futur ex Eagles en passant par un Heartbreaker,
Benmont Tench
, en rupture de Tom Petty, sans oublier, pamplemousse sur le gâteau,
Mc Cartney
en personne, ex plein de trucs, la liste est tip top et en ferait rêver plus d'un, ne serait ce qu'en réunissant le maximum possible de Beatles sur un même titre.
Si l'on s'en tient à la pochette, le Richard porte beau ses 69 ans et, pour une fois, propose une photo qui n'est pas à gerber, lui qui a tout de même fait souvent fort dans ce domaine.
Le problème, c'est que c'est un disque et que donc l'on ne peut s'en tenir là. La chose s'écoute. Une indication, notre hôte cosigne l'ensemble des morceaux, ce qui laisse rêveur, vu ses compétences à ce jour en ce domaine. Que les grosses guitares qui ouvrent l'album avec
Fill in the blanks
ne trompent personne, si le - gros- son est là, pas la musique. Un rock mordant, soniquement parlant, mais aussi vite oublié qu'entendu.
Le
peace dream
qui suit répond probablement à sa marotte qui confine au tic de faire le signe de p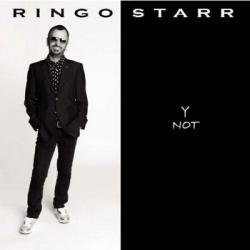 aix à tout bout de champ tout en marmonnant son mantra à lui, peace love, peace love. Hormis la ligne de basse de Paul, et un clin d'œil à John, rien à voir, vous pouvez circuler.
Other side of Liverpool
est étonnante dans son répertoire, plus sombre tu meurs, et est sauvé par son texte car musicalement bof,
Walk with you
est le sommet du disque, ne vous excitez pas, c'est pas l'Everest non plus hein, le Jura à tout casser. C'est l'ajout vocal de Sir Paul qui sauve les meubles d'une chanson qui, sinon, ne vaudrait pas tripette, mais il faut reconnaître que le coup de pouce du maître est de taille. Les 5 titres qui suivent sont du Ringo pur jus, absolument, désespérément et totalement sans intérêt. Prenez
Y not
, qui donne son nom à l'album avec son refrain tellement téléphoné que s'en est risible, Georges Harrisoné à grand coup de tabla et autres instruments (et vocaux) orientaux pour faire comme à l'époque, une méga daube.
L'album se clôt sur une honnête surprise, la présence de
Joss Stone
sur
Who's your daddy
sauve le titre d'un ennui profond et en fait même le single le plus convaincant du disque.
10 titres seulement, sous la barre des 37' Ringo n'a pas perçu que nous étions au XXIème siècle et que le CD et ses 80 minutes disponibles régnaient depuis une bonne vingtaine d'années. A son crédit, il est dorénavant producteur de ses albums, de celui là en tout cas et, ma foi, il s'en sort plutôt bien, le son est là .
Au final,
Ringo
reste donc fidèle à lui-même, un album médiocre enregistré avec une bande de copains, album dont il ne restera pas grand-chose dans les annales, réservé aux fans.
Rendez-vous en 2012 pour le suivant.