Mamma Mia
Théatre Mogador - Paris - 18 décembre 2010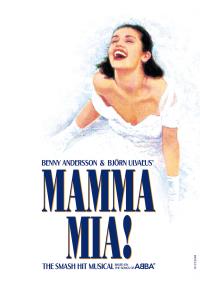 A l'évidence, un vieux fan
d'Abba
comme moi ne pouvait que tomber avec délice dans l'Abba mania qui sévit actuellement , incarnée ces temps ci par la comédie Musicale
Mamma Mia
. et donc, bravant froid et neige, me voici de retour au théatre Mogador ou je n'étais pas retourné depuis une éternité (Starmania si je ne m'abuse). Les lieux me sont familiers puisque j'ai été le facteur de la rue Mogador pendant plusieurs années dans une autre vie.
Mamma mia
est en réalité un scénario tres girlie (spéciale filles quoi) ou les chansons d'Abba servent de trame au prix d'adaptation des paroles, qui, il est utile de le préciser, sont ici francisées, et vous n'aurez donc aucune chance de reprendre en choeur quoique ce soit avec les acteurs/actrices, même si vous connaissez la set list par coeur.  Le picht donc: Une jeune fille se marie, sa mère lui a toujours cachée qui était son père, la gamine finit par dénicher 3 géniteurs potentiels qu'elle invite, évidemment à l'insu de sa mother, à son mariage. Bref scénario vaudevillesque, et roule ma poule.
Bon ça fait roman photo présenté ainsi, et ça l'est, mais ça passe, et ça passe même parfaitement. C'est le trio de quadragénaire féminin qui tient la baraque.
 CLAIRE GUYOT
, dans le rôle de Donna, la mère  et
KAREN GLUCK
et
MARION POSTA
, dans le rôle de ses copines d'enfance, toutes illustres inconnues pour moi ont de l'abattage , du métier, et balancent une bonne humeur irradiante. La mise en scène est bien foutue, sans rien de grandiose, de nombreuses allusions coquines émaillent le spectacle, histoire de se mettre discrètement les adultes dans la poche tout en restant très grand public. La jeune première est
Gaelle Gauthier
, tout aussi inconnue de moi, dotée d'une putain de voix et d'un physique à damner tous les saints, sa vitalité, son énergie sont communicatives et l'un des points forts du show. Les mecs globalement sont un ton en dessous mais la mise en scène est visiblement faite pour mettre en valeur les filles. Ceci dit, à la demande de
Laura
, je me dois de préciser que parmi les danseurs se trouvent une palanquée de
bogosses
carossés comme c'est pas permis, dont acte.
Côté zic, les grands classiques sont de la revue (cf liste ci-dessous), Un chef orchestre (désolé son nom m'échappe) dirige les musiciens dans la fosse assurant en live l'accompagnement nécessaire. Les textes ont donc été ré écrit pour coller au scénario, même si, le plus souvent, le sens général en est respecté.
Au final, un spectacle familial - si on excepte le prix des places - ou l'on sourit souvent, avec le petit moment d'émotion qui va bien, et qui laisse un goût de plaisir non dissimulé.  Le dernier tableau, avec les grandes tenues  Abba des seventies, platform boots et pantalons patte d'eph, paillette set kitch de rigueur donnant quasiment dans le rétro et la nostalgie (pour ceux qui ont connu). Bref une soirée pas prise de tête qui rend de bonne humeur et joyeux, avec des mélodies plein la tête, ce n'est pas si courant. Et une seule envie, mater le film et réécouter la disco complète des suedois.
PS .
Claire Guyot
aurait sorti un album,
Indiciblement
il y a quelques mois. J'enquête ...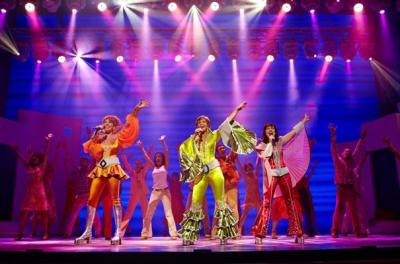 la set list (source
Wikipedia
)
Honey, Honey
Money, Money, Money
Thank You for the Music
Mamma Mia
Chiquitita
Dancing Queen
Lay All Your Love on Me
Super Trouper
Gimme! Gimme! Gimme! (A Man After Midnight)
The Name of the Game
Voulez-Vous
Under Attack
One of Us
S.O.S.
Does Your Mother Know
Knowing Me, Knowing You
Our Last Summer
Slipping Through My Fingers
The Winner Takes It All
Take a Chance on Me
I Do, I Do, I Do, I Do, I Do
I Have a Dream