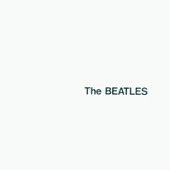 The Beatles - The White album - 1968
Le titre phare de l'album : While my guitar gently weeps


S'il fallait n'en garder qu'un, celui de l'île déserte.

Que dire qui n'ai déjà été dit, par 1000 autres et 1000 fois mieux.

Le monument. on y trouve tout et le reste, une inventivité un éclectisme, une qualité inégalée. Je ne dois pas être le seul puisque cet album est la 7ème meilleure vente de tous les temps. et est cité par nombre de rock stars comme leur album des beatles préféré.

Les fab fours ont définitivement changé le cours de ma vie (comme celle de beaucoup d'autres). Cet album est un sommet, ils sont coutumiers du fait. On a jamais fait (et probablement on ne fera) mieux depuis.

Total respect !
Liste des titres




Disque: 1

Back in the U.S.S.R.
Dear Prudence
Glass Onion
Ob-La-Di, Ob-La-Da
Wild Honey Pie
Continuing Story of Bungalow Bill
While My Guitar Gently Weeps
Happiness Is a Warm Gun
Martha My Dear
I'm So Tired
Blackbird
Piggies
Rocky Raccoon
Don't Pass Me By
Why Don't We Do It in the Road?
I Will
Julia

Disque: 2

Birthday
Yer Blues
Mother Nature's Son
Everybody's Got Something To Hide Except Me And My Monkey
Sexy Sadie
Helter Skelter
Long, Long, Long
Revolution 1
Honey Pie
Savoy Truffle
Cry Baby Cry
Revolution 9
Good Night





Quelques liens
Pour proposer un site c'est par ici