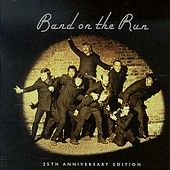 Wings - Band on the run -1973
Le titre phare de l'album : Band on the run

La référence post Beatles de Mr Mc Cartney. Incontournable.

Après la rupture, alors que les 3 autres semblaient au mieux de leurs formes et étaient au top de cette seconde carriere, lui était au fond, alors qu'il était celui sur lequel on aurait parié en 1er lieu.

Band on the run est l'album du retour, enregistré en afrique, à 3 (si on compte Linda) Mc Cartney y joue de tout, et livre là quelques unes de ces mélodies dont il a le secret. Une suite de hits ininterrompue, sans jamais céder à la facilité. Il ne retrouvera plus que rarement cet état de grâce, offrant des albums parsemés d'éclairs de génie, mais cédant souvent à la facilité.
Liste des titres

Band on the run
Jet
Bluebird
Mrs Vandebilt
Let me roll it
Mamunia
No words
Picasso's last words (drink to me)
Nineteen hundred and eighty five


Quelques liens
Pour proposer un site c'est par ici