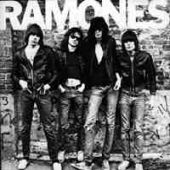 The Ramones - Ramones - 1976
Le titre phare de l'album : Judy is a punk


Je me rappelle encore la claque prise à l'époque.

ONE-TWO-THREE-FOUR BAAM un mur de guitares, 2 accords répétés sur 2'30, du pur bonheur rock and roll.

Un son inimitable, brut, un chanteur déjanté, des paroles à la limite de l'inexistant mais une pêche !

Les Ramones n'auront pas inventé grand chose, mais quelle bouffée jouissive de pure adrénaline. Précurseurs du Punk, tout en gardant la connection pop, ils furent plus tard produit par Phil Spector lui même. Un autre album, rocket to Russia, aurait pu figuré en lieu et place de celui-ci.

Plus proches, à mon sens des Beach Boys que des Sex Pistols, décimé par les décès, le groupe n'existe plus.



Liste des titres



Blitzkrieg Bop
Beat On The Brat
Judy Is A Punk
I Wanna Be Your Boyfriend
Chain Saw
Now I Wanna Sniff Some Glue
I Don't Wanna Go Down To The Basement
Loudmouth
Havana Affair
Listen To My Heart
53rd & 3rd
Let's Dance
I Don't Wanna Walk Around With You
Today Your Love, Tomorrow The World


Quelques liens


Le site officiel
Pour proposer un site c'est par ici