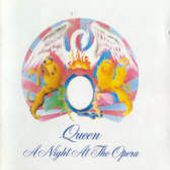 Queen - A night at the opera - 1975
Le titre phare de l'album : Bohemian Rapshody


Un groupe longtemps honni par la critique, et pourtant.

Un guitariste hors pair, Brian May, doté d'un son de guitare unique et immédiatement identifiable, un chanteur, Freddy Mercury, que l'on ne présente plus une rythmique basse/batterie impressionnante et chose rare 4 compositeurs de talent.

Cet album, au titre hommage aux Marx Brothers, comme le suivant, est un pur chef d'oeuvre. Après quelques disques à connotation plus Hard Rock, Le style Queen naît ici. Original, différent de tout ce qui avait été fait (et qui restera différent)

Rien a jeter, des harmonies vocales à tomber, leur marque de fabrique, pour des compos superbes. Evidemment , Bohemian rapshody, la référence ultime, longtemps resté le single le plus vendu de tous les temps en Angleterre, mais de Death on two legs à you're my best friend le reste est à la hauteur.

Ils ont parfois égalé ce sommet, jamais dépassé.

J'ai vu la tournée News of the world (We will rock you) et ca valait largement le déplacement.



Liste des titres



Death On Two Legs (dedicate to...)
Lazing On A Sunday Afternoon
I'm In Love With My Car
You're My Best Friend
'39
Sweet Lady
Seaside Rendezvous
The Prophet's Song
Love Of My Life
Good Company
Bohemian Rhapsody
God Save The Queen


Quelques liens