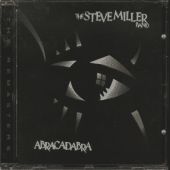 The Steve Miller band - Abracadabra - 1982
Le titre phare de l'album : Abracadabra

Une discographie pléthorique, abordant des styles divers pour une carrière qui doit approcher les 40 ans.

Cet album du ganster of love l'emmene droit sur les chemins du succès et de la pop. Parti du blues, il a déjà connu un énorme succès en 1973 avec the joker, premier d'une longue série.

Abracadabra détonne un peu dans sa discographie avec une ouverture très commerciale, qui n'est pas pour me déplaire.

truffé de mélodies très Beach Boys l'album fait un véritable triomphe dans les charts. En 1988 il sort un album splendide, Born 2B blue, dix standard jazz repris de main de maitre.



Liste des titres



Keeps Me Wondering Why
Abracadabra Miller
Something Special
Give It Up Miller
Never Say No
Things I Told You
Young Girl's Heart
Goodbye Love
Cool Magic
While I'm Waiting


Quelques liens


Le site officiel
Pour proposer un site c'est par ici