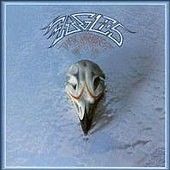 The Eagles - Their Greatest Hits Vol.1 - 1976
Le titre phare de l'album : Desperado

L'album le plus vendu de tous les temps tous genres confondus.

Une exception dans ma collection, une compilation, mais en l'occurence, la plus grande. Déjà réussir a faire un Best of des Eagles sans y placer Hotel California (parce que sortie après) montre quel est le niveau de la chose.

Bijoux sur bijoux, des harmonies vocales à faire palir les beach boys, des mélodies imparables, une douceur toute californienne, un album pour tous les étés, bref, si vous ne connaissez rien aux Eagles ou a la douceur de la musique soft américaine, ce disque est LA référence. De l'indispensable. ensuite vous ne pourrez que vous précipiter sur les albums studios post ou ante.

a noter, un des rares groupes ou le chanteur est le batteur. Les carrières solo de ce dernier Don Henley ainsi que de son complice Glen Frey n'ont pas déçu. Un égal succès aux USA, moindre en France, mais que du bon.



Liste des titres



Take It Easy
Witchy Woman
Lyin' Eyes
Already Gone
Desperado
One of These Nights
Tequila Sunrise
Take It To The Limit
Peaceful Easy Feeling
The Best of My Love


Quelques liens


Site officiel
Pour proposer un site c'est par ici