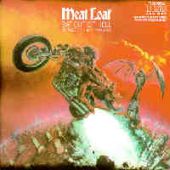 Meat loaf - Bat out of hell - 1977
Le titre phare de l'album : Bat out of hell

Je me rappelle avoir acheté l'album sur la seule foi d'une critique dans feu le magazine Best, signé Hervé Picart si je me souviens bien.

Je n'ai pas été déçu. Une pochette d'anthologie, un son d'un souffle rare, le morceau éponyme est une véritable claque de 9 minutes un film à lui tout seul. Ecrit par Jim Steinman, produit par Todd Rundgreen, au piano Roy Bittan.

Le reste de l'album est du même tonneau, épique, le duo avec Helen Foley vous met à genoux, les mmorceaux s'enchaînent avec bonheur, sans faux pas, pour clourer avec une balalde belel à pleurer, For crying out loud.

Les albums suivant ne sont que pâles tentatives de reproduire ce coup d'éclat.



Liste des titres



Bat Out Of Hell
You Took The Words
Right Out Of My Mouth (Hot Summer Night)
Heaven Can Wait
All Revved Up
With No Place To Go
Two Out Of Three Ain't Bad
Paradise By The Dashboard Light
For Crying Out Loud


Quelques liens


Le blog de Jim Steinman
Pour proposer un site c'est par ici