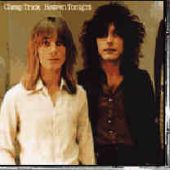 Cheap trick - Heaven tonight - 1978
Le titre phare de l'album : On top of the world

Featuring Robin Zander, probablement le meilleur chanteur de Rock, toutes catégories confondues, le plus sous-estimé aussi.

La pop music sur le versant Hard. Cet album manie à la perfection l'alternance des deux ensuite, de la superbe ballade qui donne son titre à l'album aux accents Hard-Rock de Auf wiedersehen ou à la pop song how are you ?

La tendance a lentement mais surement penchés vers le Hard. Dream Police ou In color valent également le détour. sur scène, ca arrache sévère.

Le live At budokan a fait un énorme tabac, mais le manque de compositions tenant la route a finalement fait sombrer le groupe dans le clan des seconds couteaux. Reste un florilège de pop musclée dont cet album est le meilleur représentant.



Liste des titres



Surrender
On Top Of The World
California Man
High Roller
Auf Wiedersehen
Takin' Me Back
On the Radio
Heaven Tonight
Stiff Competition
How Are You?
Oh Claire


Quelques liens