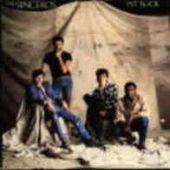 the Sinceros - Pet rock - 1980
Le titre phare de l'album : Barcelona

Mon album chouchou. En partie parce que je dois être l'un des derniers à me souvenir d'eux en partie parce que plus bel album pop que celui là, je ne connais pas.

2 albums (the sound of sunbathing et celui ci). le premier valait son pesant de cacahuètes, sorti en pleine explosion punk le groupe y a été rattaché alors qu'ils en étaient à des années lumières.

le second, qui nous interesse ici, produit par Gus Dudgeon (Elton John) est magique. Pas un des morceaux qui ne fasse mouche. pour vous donner un ordre d'idée Squeeze parait lourd à côté de ça. Pourquoi et comment cet album , véritable bijou a t'il pu passser au travers des mailles du filet de la gloire , je ne sais pas.

Nous tenions là l'album que Mc Cartney revait (reve encore) de faire. Ou se sont ils volatilisés mystère. Le clavier est parti jouer avec Squeeze, et j'ai lu récemment dans un newsgroup que le compositeur si inspiré était décédé peut après.

Si vous mettez la main sur cet album, achat indispensable, les yeux fermés, les oreilles ouvertes.



Liste des titres



Disappearing
Memory Lane
Socially
Down Down
Barcelona
Falling in and Out of Love
Sleight of Hand
Nothing Changes
Girl O Realise
As the World Turns
Midsong


Quelques liens