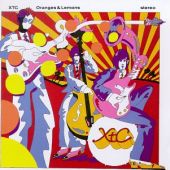 XTC - Oranges and Lemmons - 1989
Le titre phare de l'album : The loving

Je les ai découvert en 1978 avec le single This is Pop qu'avec un titre pareil je ne pouvais pas rater.

Ensuite d'album en album j'ai tenté de suivre les pérégrinations des sieurs Partridge et Moulding les deux maitres a penser d'XTC, même si le premier semble être le leader. Parfois je décroche parfois j'accroche. Il faut dire XTC ne fait pas dans la simplicité.

Mais après le superbe English Settlements je dois avouer que j'ai perdu de vue ce groupe. en quand, en 1989 sor cet album à la pochette pschydélique, je me laisse happer. Bien m'en a pris. Inventif de bout en bout sans jamais perdre l'esprit pop, cet album est , à mon avis, souvent contesté dans ce cas précis, leur sommet.

Ca part dans tous le sens mais ca reste cohérent. Nombre de styles sont abordés, assez d'idées par titres pour remplir la discographie complète de maints artistes.A noter, figure dans cet album un de mes titres pop préférés, The loving un hymne à la Lennon grande époque.

Comme toujours inclassable, ou plutot de grande classe, celle d'XTC.



Liste des titres



Garden of Earthly Delights
The Mayor of Simpleton
King for a Day
Here Comes President Kill Again
The Loving
Poor Skeleton Steps Out
One of the Millions
Scarecrow People
Merely a Man
Cynical Days
Across This Antheap
Hold Me My Daddy
Pink Thing
Miniature Sun
Chalkhills and Children

Quelques liens


Site officiel
Pour proposer un site c'est par ici