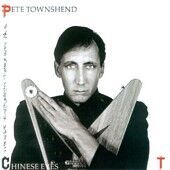 Pete Townshend - All the best cowboys have chinese eyes - 1982
Le titre phare de l'album : The sea refuses no river

Le second album solo de la tête pensante des Who.

Le leader des Who a une carriere solo peu connue. Le premier album était déjà pas mauvais, le second place carrément la barre au top. De la chanson intelligente une superbe voix, et il enchaîne classique sur classique.

Un album indispensable a tout fan des Who, mais également a tous ceux qui apprécie la musique d'un homme mature, au sommet de son art.



Liste des titres



Stop Hurting
The Sea Refuses No River
Prelude
Face Dances Part Two
Exquisitely Bored
Communication
Stardom In Action
Uniforms (Crop D'esprit)
North Country Girl
Somebody Saved Me
Slit Skirts

Quelques liens


Site officiel
Pour proposer un site c'est par ici