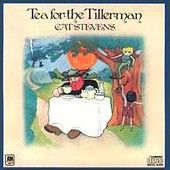 Cat Stevens - Tea for the tillerman - 1970
Le titre phare de l'album : Father and son

J'espere que le choix de vie spirituel qu'a fait Cat Stevens l'a comblé, car son immense talent d'auteur-compositeur qu'il a volontairement mis en veille manque.

Cet album est la quintescence de la son oeuvre. Une guitare acoustique quelques orchestrations discrètes (on y trouve un nommé Peter Gabriel à la flute), des chansons qui frolent souvent le sublime.

Du magique Wild world, LE tube, a where do the children play, des textes intelligents sur des musiques qui ne le sont pas moins.

Passer a côté de ce disque, c'est manquer un grand moment. Merci a Sylvana pour me l'avoir fait découvrir, il y a bien longtemps de cela.

Father and son reste pour moi une des plus belles chansons écrites sur le conflit des générations. Un des albums de référence sur le pop/folk.



Liste des titres




Where Do The Children Play
Hard-Headed Woman
Wild World
Sad Lisa
Miles From Nowhere
But I Might Die Tonight
Longer Boats
Into White
On The Road To Findout
Father And Son
Tea For The Tillerman

Quelques liens


Site officiel
Pour proposer un site c'est par ici