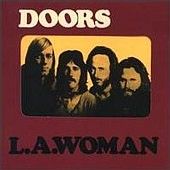 The Doors - L.A. woman - 1971
Le titre phare de l'album : Riders on the storm

J'ai beaucoup, beaucoup écouté les Doors.

Moins facile que ce que j'ai l'habitude d'écouter, Morisson avait une aura, une voix, un charisme qu'a part Elvis Presley peut être, peu ont pu se targuer d'avoir.

Tous leurs albums recelent des perles, LA woman, dernier album avec Morisson est le plus abouti. Du sublime Riders on the storm ou pop Love her madly ou au blues de Car hiss by my windows, rien a jeter.

Jamais les claviers de Manzarek n'avaient atteint ces sommets, ni la voix de Morisson cette plénitude. Dommage que la mort du chanteur ai mis un point final a l'aventure.

Néanmoins tous les albums des DOORS sont indispensables excepté les deux post Morisson.



Liste des titres




The Changeling
Love Her Madly
Been Down So Long
Cars Hiss By My Window
L.A. Woman
L'America
Hyacinth House
Crawling King Snake
The Wasp (Texas Radio And The Big Beat)
Riders On The Storm

Quelques liens


Site officiel
Pour proposer un site c'est par ici