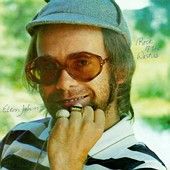 Elton John - Rock on the westies - 1975
Le titre phare de l'album :Hard luck story

Ca aurait pu être un autre album tel Blue moves ou Single man ou to low for zero . ou un autre.

Celui là était mon premier album de lui, sentimentalité quand tu nous tiens

)

Elton est un mélodiste hors pair qui a réussi à perdurer, commercialement parlant, là ou Mc Cartney s'est un peu perdu. Bien sur c'est souvent sirupeux, de la grande variété mais du rock à la ballade dégoulinante il excelle partout.

Cet album pête la forme le gros hit était Island girl mais le reste est à la hauteur. Un des rares "vieux" artistes dont le dernier album (en 2001) m'ait encore plu.Là ou mes vieilles idoles me décoivent presque chaque fois ce qui était d'ailleurs son cas ces dernières années, lui s'en sort avec les honneurs.

Son dernier album à l'heure ou j'écris ces lignes, song of the west coast était même parmi ces tous meilleurs.



Liste des titres




Medley (Yell Help, Wednesday Night, Ugly)
Dan Dare (Pilot Of The Future)
Island Girl
Grow Some Funk Of Your Own
I Feel Like A Bullet (In The Gun Of Robert Ford)
Street Kids
Hard Luck Story
Feed Me
Billy Bones And The White Bird

Quelques liens


Site officiel
Pour proposer un site c'est par ici