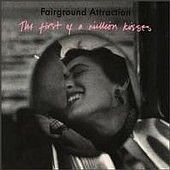 Fairground attraction - the first of a million kisses - 1988
Le titre phare de l'album :Whisper

Encore un OVNI.

Débarquant de nulle part, porté par le hit Perfect, ce groupe ephemère nous présente là un album rare.

Un son bien particulier, bien a eux, limite jazzy (je n'ai pas dit jazz) Une chanteuse (Eddy Reader) dotée d'un timbre de voix personnel, intimiste, et un excellent auteur compositeur, l'affaire est jouée.

Un ensemble ininterrompu de singles potentiels, pas un titre ne fait tache. Ils ne tinrent malheureusement pas leurs promesses, le second et dernier disque était bien inférieur.



Liste des titres




A Smile in A Whisper
Perfect
Moon On the Rain
Find My Love
Fairground Attraction
The Wind Knows My Name
Clare
Comedy Waltz
The Moon Is Mine
Station Street
Whispers
Allelujah
Falling Backwards
Mythology

Quelques liens