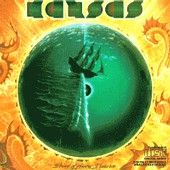 Kansas - The point of know return - 1978
Le titre phare de l'album :Hopelessly Human

Du violon, du clavier, un excellent chanteur.

Ils abordent des styles différents (dust in the wind, bien sur, mais aussi in the closet) de la musique progressive d'excellente qualité, avec des mélodies et des orchestrations hors du commun, des changements de tempo et de métrique qui nécessitent des musiciens hors pairs, tout en restant accessibles

Un groupe a part.Plein d'énergie sur scène. A part l'album précédent, Leftoverture, de haut niveau aussi, le reste n'a pas la même tenu.

Steve Walsh le chanteur , parti, c'est le son du groupe qui a changé. Mais ce disque reste une vrai référence pour moi.



Liste des titres




Point Of Know Return
Paradox
The Spider
Portrait (He Knew)
Closet Chronicles
Lightning's Hand
Dust In The Wind
Sparks Of The Tempest
Nobody's Home
Hopelessly Human

Quelques liens


Site officiel
Pour proposer un site c'est par ici