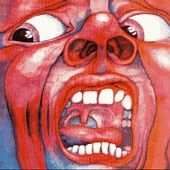 King Crimson - In the court of - 1969
Le titre phare de l'album :Epitaph

L'album qui contient le moins de titres de ma sélection.

Dans chaque style musical, il y a un album référence, celui qui crée un style marque un jalon, ouvre les portes d'un nouveau monde. Dans la famille Progressive, cet album en tient lieu .

A l'image de la pochette. Surprenant et époustouflant. Le chef d'oeuvre de la progressive music.

Un chanteur exceptionnel, Greg Lake, qui sera plutard le L de ELP à Robert Fripp, le mentor. des titres long, prenant, puissant. ils n'ont pas vieilli d'un iota. pas grand chose a voir avec la pop; mais un monument dans l'histoire de la rock music.



Liste des titres




21st century schizoid man
I talk to the wind
Epitaph
Moonchild
The court of the Crimson King

Quelques liens


Site officiel
Pour proposer un site c'est par ici