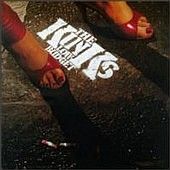 The Kinks - Low budget - 1979
Le titre phare de l'album :A little bit of emotion

Choisir un de leurs albums n'était pas simple.

Un des grands groupe des sixties, avec une discographie plethorique. Ray Davis a écrit tant de standard. Rock and Roll Fantasy sur Misfits est à coup sur dans mon top 10. Celluloid heroes est un pur chef d'oeuvre.

Mettons que Low budget est l'album le plus régulier sur l'ensemble. Rien à jeter. Un best of a lui tout seul.

Même si les kinks ont tourné Hard FM et n'ont plus rien produit depuis un bail, ils restent accroché sur les plus hautes marches de mon Panthéon personnel, une telle collection de singles de qualité étant une chose rare.



Liste des titres




Attitude
Catch Me Now I'm Falling
Pressure
National Health
(Wish I Could Fly Like) Superman
Low Budget
In A Space
Little Bit Of Emotion
A Gallon Of Gas
Misery
Moving Pictures

Quelques liens


Site officiel
Pour proposer un site c'est par ici