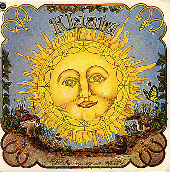 Klaatu - Klaatu - 1976
Le titre phare de l'album :Calling occupants of interplanetery craft

Le seul groupe canadien de ma sélection

1976. Un ovni, dont même la maison de disque prétend ne pas connait les noms des musiciens le composant débarque.

Très vite aux USA, la rumeur enfle, ce sont les Beatles reformés. Et les disques se vendent par milliers.

Un second album, "symphonique" cette fois, Hope, d'excellente tenu laisse planer le mystère. La musique, de très bonne facture, n'a clairement pas pourtant le génie des Fab fours. Le secret finira par percer, se sont des musiciens de studio Canadiens responsables de ces petits bijoux.

Reste une poignée d'albums (5) plutot inégaux. Le premier album contient Calling occupants of interplanetery craft, l'hymne "officiel" d'une rencontre avec les extraterrestres, le second, Hope, un concept album, est franchement superbe.
Liste des titres



Calling Occupants of Interplanetary Craft
California Jam
Anus of Uranus
Sub-Rosa Subway
True Life Hero
Doctor Marvello
Sir Bodsworth Rugglesby III
Little Neutrino

Quelques liens


Site officiel
Pour proposer un site c'est par ici