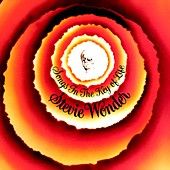 Stevie Wonder - Songs in the key of life - 1976
Le titre phare de l'album : Summer soft

On ne présente plus le little genius, qui a attendu cet album avant de faire la démonstration de la plénitude de son talent.

Un double album plus un 45 (à l'époque), donc richesse en quantité, pour une qualité époustouflante.

Du célébrissime Isn't she lovely à Sir Duke ou I wish en passant par le moins connu Saturn, un sommet dans la carriére de cet artiste, et dans la soul music en général. L'apogée de Stevie, même si les albums suivants ne manque pas de charmes. IN-DIS-PEN-SA-BLE !



Liste des titres




Love's in Need of Love Today
Have a Talk with God
Village Ghetto Land
Confusion
Sir Duke
I Wish
Knocks Me Off My Feet
Pastime Paradise
Summer Soft
Ordinary Pain
Saturn
Ebony Eyes
Isn't She Lovely
Joy Inside My Tears
Black Man
Ngiculela - Es Una Historia/I Am Singing
If It's Magic
As
Another Star
All Day Sucker
Easy Goin' Evening (My Mama's Call)

Quelques liens


Site officiel
Pour proposer un site c'est par ici