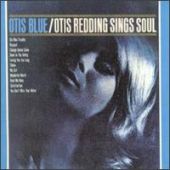 Otis Redding - Otis Blue - 1965
Le titre phare de l'album : I've been loving you too long

Certains artistes laissent une empreinte indélébile, même si leur carrière a été brève. C'est le cas d'Otis.

Une reprise des Stones pour se faire connaitre du public blanc, se démarquant de l'original, Quelques grandissimes ballades dont il avait le secret, ce disque est un condensé de ce que la Soul music pouvait apporter de mieux.

Le titre I've been loving you, signé Redding vous colle la chair de poule instantanément et le hit My girl (reprise de Smokey Robinson) vous liquéfie sur place.

Du grand art. Reste à venir quelques autres perles, Sitting on the dock of the bay étant le point d'orgue , 3 jours avant le crash dans un accident d'avion.



Liste des titres




Ole Man
My Girl
Respect
Wonderful World
A Change Is Gonna Come
Rock Me Baby
Trouble Down In The Valley
Satisfaction
I've Been Loving You Too Long
You Don't Miss Your Water
Shake

Quelques liens


Site officiel
Pour proposer un site c'est par ici