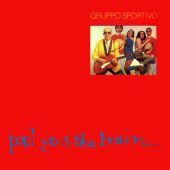 Gruppo Sportivo - Pop goes the brain - 1981
Le titre phare de l'album : Christine

Dans la série des félés du bocal, le groupe de Hans Vanderburg se pose là.

Un sorte d'au bonheur des dames matinée de New YorK Dolls bataves, bref nous sommes en plein dans la parodie

Peu de groupe hollandais ont reussi a se faire une place au soleil de la reconnaissance. Dans le style qui nous interesse, la Pop, seul les Nits ont depuis tiré leur épingle du jeu.

Apres quelques albums contenant quelques singles bien (hey you, Bernadette ...) l'album pop goes the brain raffle la mise (pour moi, le succès n'ayant jamais été au rendez-vous)

Sur cet album les pépites succedent au pépites. Pure pop au ska en passant par du simili reggae, le son à , 20 ans après, pris un petit coup derriere les oreilles, mais si vous sentez le besoin de faire le plein de fraicheur, c'est un excellent choix.

Les differents albums de Gruppo Sportivo répparaissent en CD compilé les uns avec les autres en dépit du bon sens. Des 3 ou 4 albums que je connaissent, pop goes the brain est le seul a tenir toute la distance.



Liste des titres




Who's in trouble
Rhythmisaconstantbeat
UFO
My old cortina
Girls only
If beauty is...
Holland now
Planet mercury
Christine
I'm a lucky guy
A girl like you
Very nice

Quelques liens


Site officiel
Pour proposer un site c'est par ici