The rasmus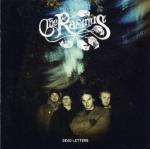 En direct de Finlande, du pop-rock plein les valises, The Rasmus arrivent

En boucle sur mon walkman, The Rasmus.
Tout le monde connaît In the shadows qui fait les beaux jours des FM. Ce groupe de petits jeunes Finlandais débarque en France avec un album Dead letters dont est extrait le single sus-nommé. Et c'est tout sauf le groupe d'un single.

Le 1er titre, the first days of my life ouvre le feu. Guitares en avant, voix voilée dans la belle tradition des hard-rockers seventies et un refrain qui se plante droit dans votre lobe cervical et qui n'en bougera plus. Petits riffs de guitares dans tous les sens, mélodie limpide, rien à dire, fort de chez fort. coup de chance ?

Le second titre étant In the Shadows, on en conclura qu'effectivement les jeunots sont très chanceux.
Après un honnête 3eme titre, le 4ème enfonce le clou. In My life est le style de titre qui ne peut pas rater sa cible, vous ! un premier riff entre la batterie, second riff, le chant avec une mélodie imparable, vous êtes piégés.
Guilty finit de vous enfoncer dans le canapé, vous devriez beugler le refrain jouissif dès la 1ere écoute La ballade Not like the other girls vous laisse à peine respirer que Back in the picture vous achève .
10 titres dont au moins 6 sont des tubes imparables, les autres tout sauf du remplissage la dernière fois que ca vous est arrivé remonte à quand ?


Mais moi, quand un groupe me propose un album de cette qualité, le curieux que je suis ne peux s'empêcher de remonter un peu le court du temps pour voir si c'est une coup de chance ou si c'est une confirmation.

L'album précédent, Into, est du même tabac, un méga tube F F F Falling, des titres comme heartbreaker ou can't stop me ont un potentiel de hits évident, le reste vole haut aussi.
Le curseur de ma machine temporel toujours bloqué sur arrière, je tombe sur le single de l'album précédent, Liquid. et là je tombe a genoux et je dis , comment font-ils.?un putain de morceau, une ballade lumineuse, le meilleur qu'ils aient fait. Que ces mecs soient restés inconnus partout sauf en Finlande, pays d'origine, tout ce temps est proprement stupéfiant. On était ou ? moi j'étais ou ? et vous ? les majors qui nous sortent de la sombre daube à tour de bras elles faisaient quoi ?c'est pop, c'est rock, ca sonne d'enfer, c'est lumineux, c'est jeune, frais tout ce que je ne suis plus, ma fontaine de jouvence ;o).testez Liquid sur votre peer 2 peer préférez et donnez m'en des nouvelles.Ensuite courrez en Finlande acheter ce qui manque à votre collection. Ils seront à Paris le 24 avril, à l'Elysées Montmartre, et je n'y serais pas, il n'y a plus de place