Sweet Apple Pie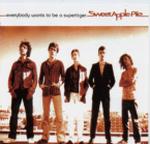 Une part de tarte aux pommes ? Power pop made in France, au parfum délicieusement british. Une recette toulousaine qui fera date.

Ce sont toujours les recettes classiques qui remportent tous les suffrages.

Prenez la recette de la douce tarte aux pommes par exemple. Sur un lit de guitares, attention, pas n'importe quelles guitares, de la carillonnante, de l'arpégée, de l'entrelacée subtilement, de la Byrds par exemple, ajoutez, pour donner ce goût frais et acidulé, de maintes couches d'harmonies vocales, et surtout ne lésinez pas, en ce domaine, le plus n'est pas l'ennemi du mieux, n'hésitez pas à mêler voix masculines et féminines, et échaffaudez un mille-feuilles vocale façon Beach Boys) de manière à garder toute la légèreté impérative a ce type de préparation...

Mélangez à la pâte sonore ainsi obtenu un coulis de basse/batterie précis et en place qui maintienne le tout et saupoudrez de mélodies type Kinks/Who.

Servez la galette ainsi pressée frais, sur une terrasse ensoleillée, de préférence toulousaine et vous n'avez plus qu'à vous régaler...

Cette recette, transmise de père guitariste en fils guitariste depuis les années 60 est un délicat équilibre, qui demande un tour de main éprouvé et qui n'est pas à la portée du premier cuistot venu. Sweet Apple Pie, groupe toulousain dont il est question ici, nous en livre une version 4 étoiles et fait plus que nous mettre l'eau à la bouche.

Une première galette 15 titres nommée "Everybody wants to be a Supertiger", parue en 2002 est là pour nous rassasier. Une bouchée de SAP et la madeleine de Proust fait son effet. Fermez les yeux, tout est en place pour faire un saut en l'an de grâce 1965, impossible de deviner que nous avons ici affaire à un groupe français (qui en remontre pour l'occasion à nombre de groupes anglo-saxon sur l'art et la manière de faire la pop millésimée).

Si les noms de Posies, Cherry Twister, Chewy Marble, sans oublier le Maître Dwight Twilley vous disent quelque chose, si power pop est un terme qui vous est familier, vous ne pouvez/devez pas passer à côté de Sweet Apple Pie.

Et comme la reconnaissance internationale ne saurait tarder, les SAP sont disque de la semaine sur Liquid London Radio et ils vont porter la bonne parole à la mi-octobre dans la célébrissime Cavern de Liverpool à l'occasion de l'International Pop Overthrow (ou se trouvera un autre de mes chouchous, le groupe irlandais Pugwash.

Allez vous en reprendrez bien une part ?