LEO

Si les 3 lettres du groupe LEO vous évoque quelque chose, vous êtes fin prêt pour la chronique qui suit.

Hors donc, il était une fois un groupe nommé ELO pour Electric Light Orchestra, collectionneur de tubes dans les années 75-80 , drivé par un mentor, Jeff Lynne, auteur-compositeur-arrangeur-multi instrumentiste et chanteur. Le groupe se saborde dans l'indifférence générale en 1986. Un album 15 ans plus tard, puis de nouveau silence radio.

En 2006, le dénommé William James McAuley III, plus connu sous le nom de Bleu, décide, en s'alliant a d'illustres comparses du monde de la pop (issus de Jellyfish, Papa Fritas entre autres) qu'il était temps pour le monde d'entendre un nouvel album d'ELO.
Pour ne pas surcharger de boulot le sieur Jeff Lynne, devenu producteur en vogue, il décide de tout faire lui-même.

Voici donc un ovni nommé Alpacas Orgling qui reprend les choses ou Lynne les avaient laissé en 1977.
L'idée est donc d'écrire des morceaux originaux à la manière de.
Les Rutles (alias les Monthy Python) avaient en leur temps opéré de même pour les Beatles, mais en laissant deviner dans leurs propres morceaux le titre qui les avaient inspirés.

Ici, foin du comique, c'est du sérieux, faire du ELO sans ELO. Et après écoute de l'album, je reste mitigé.
Côté production et son, c'est à tomber de réalisme. On est en pleine période A New World Record - Out of the blue. Tous les tics, les gimmick , les rythmes de batteries, tout donne l'impression d'écouter des chutes de studio. Bon, il manque la voix de Jeff, certes, mais c'est remarquablement réussi, particulièrement quand on sait que les musiciens ont essentiellement travaillés à distance par le net (comme un Sucrepop de votre connaissance ;o)

Néanmoins, un truc manque cruellement pour que l'illusion soit parfaite. Les petits gars ont oublié d'écrire les mélodies. Tout ici est honnête, sans plus. Pas de hit mémorable, pas de titres à chanter sous la douche, bref, la forme mais pas le fond.

Dommage d'avoir mis tout ce talent, tout ce travail et d'avoir omis ce qui était quand même la caractéristique majeure d'ELO, des bons titres.

L'album est du coup le parfait Canada Dry, la couleur, le goût, le son, mais ca n'est pas l'original, juste un ersatz.
Bien sur Distracted ou Goodbye innocence sont écoutables mais ne tiennent pas la comparaison, c'était pourtant l'ambition affichée.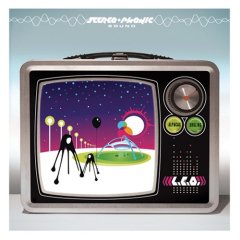 1. Overture
2. Goodbye Innocence
3. Ya Had Me Goin'
4. Distracted
5. Make Me
6. The Ol' College Try
7. Nothin' Will Ever Change
8. Don't Let It Go
9. Private Line
10. Sukaz Are Born Every Minute