Superbus
J'ai un à priori favorable sur Superbus .

Leur second opus, Pop'n'Gum, petite galette fourrée aux singles efficaces m'avait converti, mais j'étais passé à côté de ce troisième album, je viens de me l'acheter après avoir croisé inopinément leur clip butterfly sur un quelconque robinet à clip télévisuel.

Emmené par une demoiselle à l'énergie communicative, Superbus, visiblement c'est elle puisqu'elle signe tous les morceaux, le groupe propose une musique doté d'un côté pop plus que prononcé, entre girls group des sixties et la référence ultime dans ce genre de musique, Blondie, bref une pop enjouée, qui met la patate ou la pèche, au choix, enthousiasme communicatif de la pop sucrée comme Sucrepop aurait aimé en faire.

Le dénommé Wow, paru à l'automne 2006 reprend le fil là ou Pop'n'Gum l'avait laissé, à croire même qu'il est issu des mêmes sessions, tant les ingrédients sont les mêmes. Ceci dit, ce n'est que leur 3ème album, laissons leur le temps d'exploiter le filon.

La plupart des titres sont sous la barre des 3', l'album peinant à atteindre les 45 minutes au total.
Il s'ouvre sur un pop/rock endiablé Rock à Billy, qui certes est enlevé mais manque d'une efficacité mélodique certaine. Une sorte de morceau des Go Go's raté, ponctué d'onomatopée, marque de fabrique du groupe qui ne brille guère par ses textes, mais ce n'est pas nécessairement ce qu'on leur demande non plus.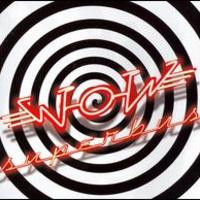 Le morceau suivant, Ramdam, est un petit bijou, parmi leurs tous meilleurs titres à ce jour. Classe pop qui démontre la capacité du groupe à fournir de l'excellent matériel et le meilleur titre de Wow.
Butterfly, le 1er single, un hommage marqué à Blondie avec ces accents disco pop, fait son office de single, mélodie entêtante, arrangements efficaces à défaut d'être innovants, Superbus confirme tout le bien que je pensais d'eux.

Le 1er morceau en anglais arrive, tentative de conquérir le marché anglo-saxons ? Si l'idée est bonne, le problème c'est que si en France, des groupes pop touchants le grand public comme Superbus se comptent sur les doigts d'une main, la concurrence outre-manche ou outre-atlantique est bien plus rude. Mais, sans essayer … de fait la moitié ou presque de l'album est dans la langue de Shakespeare, un poil plus que sur les albums précédents

Le titre Lola, suit le chemin tracé pars ses prédécesseurs, texte totalement inepte, et pourtant on ne peut pas m'accuser de privilégier la chansons à textes ;o), pour popsong simple mais qui fini par tourner en rond.

Et c'est en fait le défaut majeur de l'album, car quand l'alchimie pop ne fonctionne pas à plein, quand le titre n'a pas le potentiel d'un single, la mayonnaise ne prend pas. Ce qui à envoyé Blondie, Go go's au panthéon des pop stars c'est la capacité d'écrire des chansons futiles certes, mais qu'est ce d'autres que la pop, mais d'en remplir un album. Parallel lines ou Eat to the beat, les albums les plus efficaces de Blondie croulaient sous les singles, ça n'est pas le cas de Wow.

Perso, je ne compte « que » 3 singles potentiels sur ce disque (Ramdam, Butterfly, Jenn je t'aime). C'est déjà bien plus que nombre de leurs collègues, indéniablement, mais je sens un tel potentiel dans ce groupe, la capacité de faire un album vraiment géant, que je suis un peu déçu. Tout est là pour que ça colle, les ingrédients y sont , le son, la voix, si j'en crois ceux qui les ont vu sur scène ils assurent sacrément bien, reste à trouver la bonne formule, l'alchimie magique qui combinant tous leurs atouts décrochera la timbale.

Jenn en a le potentiel, je n'en doute pas une seconde.