Ringo Starr and the All Starr Band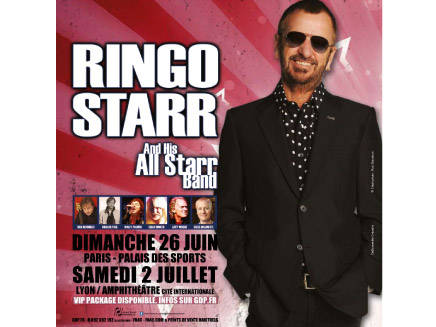 Ringo Starr en concert. 70 ans au compteur, pas de chansons, encore moins d'albums, marquant depuis, littéralement, des décennies, un talent de chanteur pour le moins discutable, bref, peu de raisons d'aller dépenser quelques dizaines d'euros, si ce n'est d'aller voir une légende au moins une fois. Près de 20 ans depuis son dernier passage en terre parisienne, son All Star band, bonne idée sur le papier, n'a rien non plus de très attractif en version 2011 :
Rick Derringer
, guitar-héros seventies officiant dans le blues rock au CV long comme un jour sans pain, éternel second couteau de la mythologie du rock & roll, ,
Richard Page
, chanteur de Mr Mister, groupe des années 80, dont il chantera les deux principaux succès,
Kyrie et Broken wings
, bassiste pour l'occasion,
Wally Palmar,
second guitariste, membre des Romantics, qui eurent également leur heure de gloire dans les eighties et qui chantera également leur deux tubes,
Talking In Your Sleep
et
What i like about you
,
Edgar Winter
, claviers, saxophone et percussions qui nous a gratifié de ces dons de multi instrumentiste d'exception,
Gary Wright
, clavier, a joué son « tube » Dream weaver, et semblait pétrifié derrière son synthé, et pour finir, un sus du batteur hôte des lieux, Gregg Bissonette , batteur de haute volé, impressionnant tout le long du set.
Bon, et sinon, ce concert ? 20h00 pile, les lumières s'éteignent, salle presque pleine, et deux frenchy débarquent, un clavier un guitariste et une tonne de bande orchestre pour proposer une musique d'obédience Beatles plutôt pas mal foutue, le chanteur assure carrément, les quelques compos sont attractives, et, produites en studio, doivent même frôler le très bon.
Julia
, aux airs jazzy west coast de Oh Lori des Alessi brothers, ou
Never trust a blonde girl
m'ont paru plus qu'intéressantes. Aucun des deux n'ayant eu la présence d'esprit de se présenter, j'ai cherché en rentrant hier soir qui ils pouvaient bien être, il semblerait que ce soit le groupe
Bald
- de fait le chanteur guitariste n'avait pas un poil sur le caillou – en tout cas ils m'ont donné envie, je vais creuser l'affaire.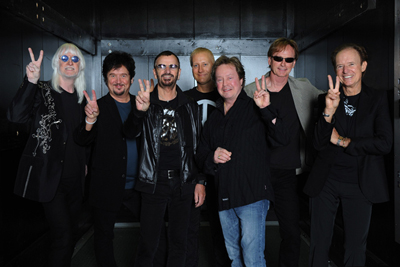 Exit après 5/6 titres et plutôt balancé par une partie du public, place au Ringo. Le groupe se met en place, premières mesures d' It don't come easy, de l'époque ou il faisait encore des tubes, et voilà qu'un jeune homme de 40 ans débarque en jean/veste sur T-shirt, cheveux noirs jais. Stupéfiant. Côté look, d'où j'étais – 35ème rang face à la scène – impossible de deviner que le bonhomme vient de fêter ses 70 ans, le rock, et l'alcool, semble l'avoir conserver. Standing ovation alors qu'il n'a pas encore poussé une note, la foule salue la légende, petit frisson quand même, c'est quand même un gros morceau de l'histoire du rock qui déboule là.
Côté voix, pas pire ni meilleur que ce à quoi je m'attendais. Fidèle à sa réputation il ne manque pas d'humour, discute entre les titres avec le public, passe à la batterie une bonne partie du temps, dans un style nettement plus dépouillé que celui du sieur Bissonnette qui lui, tient la baraque. Il chante une set list prévisible :
honey don't, I wanna be your man ,boys, Yellow Submarine et With a Little Help from my Friends
pour la sequence Beatles - Yellow sub a soulevé la foule -
Peace Dream et The other side of Liverpool
pour illustrer le dernier album,
Choose love, Back off boogaloo et Photograph
pour rappel de sa carrière post scarabés. Entre une série de titres, il passe la main au All Star Band qui chante un titre à tour de rôle se présentant les uns les autres. Dans la bonne tradition seventies, on a le droit au solo de guitare démonstration technique ou le Rick monte et descend le manche à vitesse grand V, histoire d'épater la galerie qui aurait surement préférée un Love me do ou Octopu's garden en plus. L'Edgar, pas en reste, profite de son instrumental Frankenstein pour nous en coller plein les tympans, et que je t'envoie un solo de synthé, et que je te balance un solo de sax et vas y que je te colle un solo de batterie en mode question réponses avec le Greg, bref le gus se fait plaisir et de fait à l'enthousiasme communicatif.
Le tout se clôture par un Give peace a chance de John, credo habituel du Ringo. Pas de rappel, malgré l'insistante demande du public, pas de présentation du batteur, la fin à un peu gâché la fête.