James Blunt
Son précédent album, son premier, à décroché le jackpot, une grosse dizaine de millions d'unités
vendues (crise du disque ?, quelle crise du disque ?). Porté par deux singles lumineux, un timbre
de voix,aigüe, aisément identifiable, et des textes simples voir simplets, niveau Mc Cartney des
grands jours, idéaux pour l'apprentissage de l'anglais en 6ème.
Le second était donc attendu comme le messie (par l'industrie musicale), allait-il rééditer son coup de maître, même si, côté
auditeur, la sur-exposition du 1er album en avait agacé plus d'un. James Blunt, lucide, sachant
que ses chances de rencontrer le même succès commercial étaient faibles, c'est, selon ses dires,
enlevé toute pression, et, tranquillement reclus à Ibiza, à écrit et composé ce All the lost
souls (toutes les âmes perdues), continuité du précédent, l'effet de surprise en moins.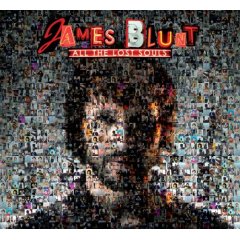 Le premier single, 1973, paru un peu avant l'abum, tient toutes les promesses de Back to Bedlam.
Accrocheur, plus enjoué que Goodbye my lover ou You're beautiful, moins mièvre, mais le reste du
disque, quoique bien réalisé, est inodore et incolore. Le syndrome Elton John est de plus en plus
prégnant chez mister Blunt, tics vocaux et style de piano compris. Mais là ou le maître parsème
de quelques mémorables perles ses livraisons, l'élève est ici à la peine avec une nette faiblesse
dans le département mélodique. Excepté le déjà mentionné 1973 et, dans une moindre mesure Annie, je ne vois pas débouler
de mega hits du niveau du précédent. Maintenant c'est sans compter sur les capacités de matraquage des radios.
Par contre, 10 titres pour moins de 40', une chose est certaine, il n'a pas forcé sur la quantité.
Si vous aviez aimé le précédent, celui ci ne devrait pas pas vous
décevoir, même type d'orchestrations, même falsetto, même chansonnettes pop calibrées grand public mais plus probablement vous laisser sur
votre faim, les ingrédients étant les même mais la recette déjà éculée. Attention, ce n'est pas un mauvais disque, loin de là, mettons
qu'il n'a pas là forcé son talent.
All the lost souls - James Blunt - 2007


1973

One Of The Brightest Stars

I'll Take Everything

Same Mistake

Carry You Home

Give Me Some Love

I Really Want You

Shine On

Annie

I Can'T Hear The Music